RefPsych - Project for refugees and helpers
Max Planck Institute of Psychiatry offers psychoeducation for helpers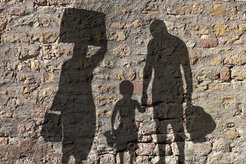 Zoom Image
A study carried out among Syrien refugees in Turkey in 2015 shows that two-thirds of them have witnessed or experienced the death, torture or abduction of a close friend or family member (Alpak et al., 2015). Therefore, the frequency of stress-related disorders in refugees is alarming (Heeren, Müller et al., 2012). About 20 to 30 per cent of refugees suffer from major depression or a pronounced post-traumatic stress disorder and are in need of treatment (Steel, Chey et al., 2009).
Psychiatric care of refugees in Germany needs to be optimized. The Max Planck Institute of Psychiatry wants to contribute to this process.

For helpers supporting persons with mental disorders resulting from flight and migration, we offer:

Psychoeducation and supervision for helpers

Our psychoeducation program comprises 8 group meetings as listed below. The workshops will take place at the Max Planck Institute of Psychiatry on Mondays from 6 pm to 8 pm. The workshops are carried out in German. Please find the contact details for registration on the right side.
January 22, 2018
Maintenance and origin of psychogenic symptoms resulting from flight and migration
February 5, 2018    
Depressive disorders
February 19, 2018
Anxiety disorders and somatization disorders
March 5, 2018
Post-traumatic stress disorder
March 19, 2018
Addiction and psychoses  
April 9, 2018
Particularities of dealing with refugees: skills, life-line, suicidality
April 23, 2018
Stress management for helpers  
May 7, 2018
Final meeting and information on treatment possibilities