Canadian Institute for Health Research fellowship: Epigenetic effects in stress-related disorders
Nadine Provençal receives 50,000 CAD fellowship for her research on epigenetic effects of exposure to glucocorticoids and childhood maltreatment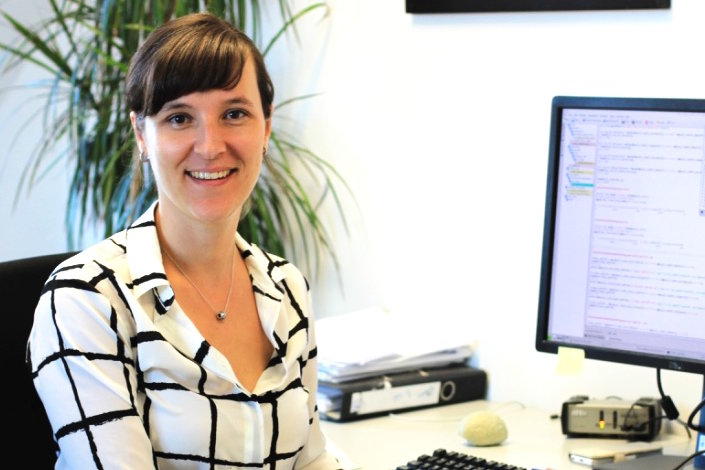 Adults who have been abused or neglected while they were a child, are more at risk to develop mental health problems and medical diseases than people who had a normal childhood. These people may have altered brain functions and changes in hormones and messengers that are needed to adjust to stress. Of importance, glucocorticoid hormones are the main regulators of our response to stress.
"It has been previously shown that childhood maltreatment can induce long-term changes in our genes. While such changes, that we call epigenetic modifications, have been seen in adults who had been maltreated as children, it is not known how they can affect adulthood health problems," explains Nadine Provençal, postdoc in the Department of Translational Research in Psychiatry at the Max Planck Institute of Psychiatry in Munich. "We also know that such epigenetic changes on our genes can be caused by excessive release of glucocorticoids following child maltreatment but until now we are missing a comprehensive map of these alterations and which are the ones that will be maintained until adulthood and affect health."
Thanks to the Canadian Institute for Health Research Fellowship worth 50,000 CAD (~34,000 Euros), Nadine Provençal will now be able to combine her data on neuronal cellular models with multiple tissues from non-human primates also exposed to glucocorticoid activation. Based on this research, the scientists hope then to be able to develop new ways to treat affected people but more importantly, maybe prevent the development of disease, by directly interfering with these processes earlier in life.
Short CV
Nadine Provençal completed her B.Sc. in Biology at Laval University in Quebec City, Canada, and then received an accelerated transition to doctoral studies in Epigenetics at McGill University. Obtained in 2013, her doctoral thesis concentrated on the influence of early life adversity on the epigenome of rhesus macaques in collaboration with the National Institute of Child Health & Human Development, as well as the epigenetic marks associated with the development of physical aggression in men.
Thereafter, Nadine Provençal continued her training through post-doctoral research at the University of Montreal and the Research Group on Psychosocial Maladjustment in Children at McGill University where she investigated women and children genomes for epigenetic marks associated with physical aggression. In 2013, she moved to Munich, Germany, to continue her post-doctoral training at the Max Planck Institute of Psychiatry.
NP/AN