Mission Statement of our Research Hospital
As part of the Max Planck Society, our hospital is committed to the common good and not profit-oriented. The well-being and dignity of our patients are the focus of everything we do.
We are aware of our responsibility as one of the world's leading institutions in psychiatry.
Our tradition is commitment to innovation: The constant improvement and development of diagnosis and therapy is the concern of our hospital.
Through a uniquely close relationship between patient care, clinical research and basic research, new insights into the causes of psychiatric and neurological disorders are discovered and converted into new diagnostic and treatment options and prevention approaches. This research ensures our patients benefit as quickly as possible.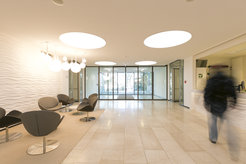 Stress-related diseases are the focus of clinical treatment services and research.
We offer comprehensive, evidence-based diagnostic assessment and treatment of our patients at the highest level.
For optimal and patient-centered treatment, we create dynamic structures in terms of integrated care. This means the flexible combination of outpatient, day-care and inpatient services.
Highly qualified, motivated and satisfied employees in all areas and functions, as well as an optimal interdisciplinary cooperation are of central importance. A respectful interaction and mutual esteem permeate our everyday lives. The protection and health of our employees deserve our special attention.
To ensure quality care, junior development, education and training have a top priority.
We work efficiently and use healthcare resources economically and responsibly.