Historical Archives
The purpose of the historical archives at the Max Planck Institute of Psychiatry is to enable the investigation of questions about the history of psychiatry, particularly those regarding the development of modern academic psychiatry in German-speaking regions since 1860.

The archives provide material for scientists from medical and cultural history disciplines who are interested in the history of psychiatry. It gives information to help answer relevant questions, thus supporting research.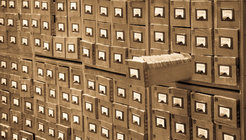 The archive holds various bequeathed estates of renowned psychiatrists who were associated with the Institute.

Among them is the collection of the Berlin neurologist Heinrich Laehr (Heinrich-Laehr-Sammlung). The collection contains several thousand volumes, including a special library from the Laehr family that is unique in the history of psychiatry. In Germany, there are only a few historic scientific collections regarding a particular specialized area. The Laehr collection includes some very precious and rare pieces, such as Tractates by Paracelsus dating back to 1564.

The Institute also houses the collection of the former Neuropathology Department (1917-1995) comprising approximately 2 million microscope slides. The archive is complemented by maps, photos and video footage.