IMPRS-TP - International Max-Planck Research School for Translational Psychiatry
Our program for graduate students
The IMPRS-TP is a structured graduate program that provides interdisciplinary training in molecular, cellular and systemic psychiatric research to outstanding doctoral students. The program exposes students to a wide range of scientific questions and methods covering the areas of molecular medicine, neuroscience, psychiatry, neuroimaging, design-based stereology and clinical studies in an environment that fosters scientific excellence and collaboration. In addition to traditional PhD positions, IMPRS-TP offers a unique integrated PhD/residence program in psychiatry to exceptional medical doctors who gain research expertise while also developing their clinical skills.
IMPRS-TP is a joint initiative of leading scientists from the Max Planck Institutes of Psychiatry and of Biological Intelligence and the Ludwig Maximillians University, Munich (LMU). Further collaborations have been established with the Munich Medical Research School (MMRS), the Helmholtz Center Munich, the Graduate School of Systemic Neurosciences (GSN), Martinsried, Germany and King's College London, UK. IMPRS-TP is co-funded by the Else-Kröner-Fresenius Foundation.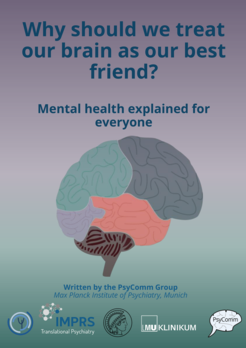 Download the booklet which our students produced in order to explain mental health for everyone: Why should we treat our brain as our best friend?