Laura Voss | Urban Debris
Vernissage
Date:

Jan 21, 2016

Time:

17:30 - 20:00

Speaker:

Laura Voss

// science and technology studies // human-machine interaction // robotics // collages //

Location:

Max-Planck-Institut für Psychiatrie

Room:

Director's Wing

Host:

Elisabeth Binder | Alon Chen

Contact:

presse@psych.mpg.de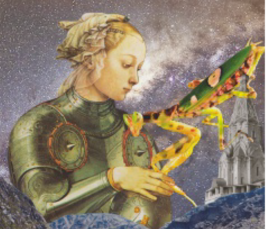 Laura Voss (*1984) is a Munich­based collage artist. Her collages range from complex landscapes to surrealistic portraits of human­animal hybrid figures.
She makes her collages exclusively by hand, using scissors, scalpel and glue. The computer is only used for scanning the finished collages.
Constantly on the lookout for raw material, Laura enjoys finding 'Urban Debris' – unwanted leftovers of everyday life. She especially likes old books salvaged from the trash by the Munich waste disposal company.
For her, the process of finding material, categorizing it, and choosing pictures is at least as important a part of the creative process as cutting out and combining the pictures in a final collage.
In her 'real life' Laura is a graduate psychologist and PhD student at the Munich Center for Technology in Society (MCTS) of the Technische Universität München.