Funding for new approaches to diabetes treatment
Protein improves weight reduction and blood glucose regulation
Obesity and diabetes are serious widespread diseases which, according to the WHO, will be one of the world's biggest health problems in 2030. They currently affect 650 million and 422 million people, respectively. The combination of obesity and diabetes in particular poses a high risk of severe disease progression, for which there is currently no satisfactory treatment option. Metabolic disorders are highly comorbid with psychiatric disorders, suggesting a causal relationship.
In the Fit4Fat project, which has now been approved by the German Federal Ministry of Education and Research (BMBF) and is funded by the "Validation of the technological and societal innovation potential of scientific research - VIP+" funding mechanism, new active substances for the treatment of obesity-induced diabetes will be developed at the Technical University Darmstadt (TUD) and the Max Planck Institute of Psychiatry in Munich (MPI). The ministry is providing 1.6 million Euros for this purpose.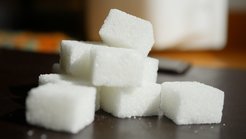 At the heart of the approach, which the scientists hope can achieve both weight reduction and improved blood glucose regulation, is the binding protein FKBP51, which is present in the brain as well as in fat and muscle tissues. "In preliminary work, we discovered a mechanism to selectively block the target protein FKBP51," says Felix Hausch of TUD, one of the two project leaders, "this allows us to avoid non-specific side effects." "We are also planning active substances that preferentially inhibit FKBP51 in fat and muscle tissue," adds Mathias Schmidt from MPI, "this should make the active substances work even more effectively." With the VIP+ funding, the researchers plan to optimize the existing prototypes into drug-like substances that will enable testing in humans. After this important step, a compound could be developed that would help many people manage the health problems of obesity and diabetes.