Nadine Gogolla - new director at the Max Planck Institute of Psychiatry
The neurobiologist's research is all about emotions
Since October Dr. Nadine Gogolla is director of the Max Planck Institute of Psychiatry. "With her appointment, we have gained an outstanding scientist who already presents groundbreaking results. Her research interests, which revolve around emotions, are a perfect fit for our Institute", says Prof. Dr. Dr. Elisabeth Binder, managing director,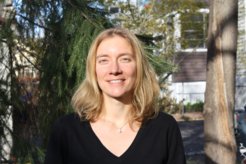 Nadine Gogolla was born in Hamm, studied human biology in Marburg and in Paris and completed her PhD in neurobiology in Basel. From 2007 to 2013, she worked as a Post-Doc at Harvard before returning to Germany as a Research Group Leader at the Max Planck Institute of Neurobiology.
Her research focuses on the neuronal basis of emotions. Feelings and emotions cause certain behavioural patterns and significantly shape our decisions and sensations. Although emotions are important foundations of human experience and our interpersonal relationships, they are among the least understood functions of the brain.
So, what exactly are emotions? How are emotions different from feelings? How can emotions be objectively measured and scientifically researched? What influence does our body have on the development of emotions? And what happens in psychiatric disorders when emotions seem to take over, such as in depression or anxiety disorders?
These are just some of the questions Nadine Gogolla and her research team are trying to answer. They use mouse models and develop new methods to make emotions scientifically measurable. Recently, Nadine Gogolla's team was able to show that the facial expressions of mice, just like those of humans, reflect their emotions. Using modern methods of artificial intelligence and machine vision, the researchers can now precisely track the emotional state of individual mice. This set-up will enable them to fundamentally investigate the brain processes through which emotions arise.
To investigate the neuronal basis of emotions, the researchers are particularly interested in the insular cortex as it is known to play an important role in the experience of emotions and in physical functions. Furthermore, structural and functional changes in the insular cortex have been described in a variety of psychiatric disorders, including anxiety disorders, depression, addiction and schizophrenia. However, we still do not understand why this is so.
The aim of her new department at the Max Planck Institute of Psychiatry is to build bridges between basic research in animal models and clinical research, with the hope that a better mechanistic understanding of the circuits of emotion will help to find new therapeutic approaches for psychiatric disorders in the future.