The Mifek-Kirschner Prize for young scientists

Max Planck Institute of Psychiatry awards six junior scientists
On September 14th, Alon Chen, Director of the Max Planck Institute of Psychiatry awarded six young scientists with the Mifek-Kirschner Prize for their extraordinary posters. In addition to the recognition, Tania Carrillo-Roa, Carine Dournes, Immanuel Elbau, Mira Jakovcevski, Stoyo Karamihalev and Johannes Klaus will receive 1,000 Euros each towards their scientific work.

Since 2008, the Max Planck Institute of Psychiatry grants the Mifek-Kirschner Prize to young scientists every year. Named after Christa Mifek-Kirschner, who passed away in 1982 and kindly left her estate to the Max Planck Institute of Psychiatry.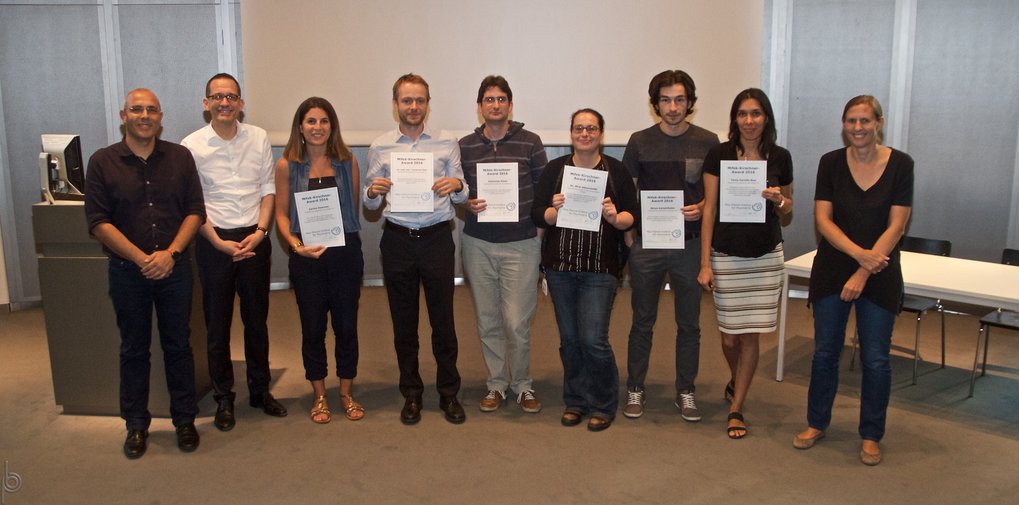 The 2016 awardees and their awarded work:
Tania Carrillo-Roa: Polygenic scores derived from neuroimaging endophenotypes predict outcomes to psychotherapy and medication treatments for major depressive disorder.
Carine Dournes: The role of GR in CRF expressing neurons in modulating HPA axis functions and HPA habituation in mice.
Immanuel Elbau: Altered hippocampal hemodynamic response function: A potential stress phenotype?
Mira Jakovcevski received the prize for her lecture: Histone deacetylase deficiency leads to changes of hippocampal lysine profiles and is involved in the regulation of behavior in mice.
Stoyo Karamihalev: From complex behaviour to personal identity: detecting stable traits in freely interacting groups of mice.
Johannes Klaus: Modelling periventricular heterotopia in human organoids with mutations in FAT4 and DCHS1.