The 2nd Munich Winter Conference on Stress
Conference
Beginn:

17.03.2019

Ende:

19.03.2019

Ort:

Hotel Königshof, Garmisch-Partenkirchen, Germany

Gastgeber:

Mathias Schmidt and Alon Chen

Kontakt:

mschmidt@psych.mpg.de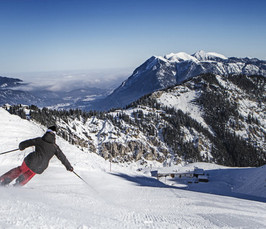 We are delighted to invite you to the second international Munich Winter Conference on Stress. This conference will again bring together world renowned experts in the field of stress research to discuss the latest research whilst taking in the stunning and invigorating environment of the German Alps. Conference days will feature scientific morning and evening sessions, combined with the opportunity to enjoy winter activities during the day (e.g. skiing, hiking, sightseeing, etc.).
The following distinguished scientists have already agreed to participate:
John Cryan
Dominique de Quervain
Michael Fanselow
Joshua Gordon
Marian Joels
Tom Kash
Gil Levkowitz
Byungkook Lim
Mary-Kay Lobo
Paul Lucassen
Charles Nemeroff
Inga Neumann
Kerry Ressler
Scott Russo
Carmen Sandi
Jonathan Seckl
Nirao Shah
Kay Tye
Registration:
Please follow the link on the right hand side. There are two registration options:
Regular attendee – double room: 550,-€
Regular attendee – single room: 750,-€
These registration costs include accommodation for 4 nights (16-20th of March, 2019), breakfast and dinner (excl. drinks).
The deadline for registration is December 1st, 2018. Once we reached the maximum number of attendees, registration will be automatically closed. This will be a focused meeting of about 120 scientists, so please register early to ensure that you can participate.
Abstract submissions for poster presentation:
At the beginning of December, thus after registration is completed, all registered participants will receive an email with instructions how to submit titles for the poster presentation. Every attending scientist will have the possibility to present a poster at the conference. We will not ask abstracts from the attendees in order to enable everybody to present their latest, potentially also unpublished, data.
Furthermore, we will select a few outstanding young scientists to present their research in the different sessions, back to back with the more senior scientists. If you want to be considered for this, we will ask for an abstract and a cv, but only for the selection procedure. All the details for this will be explained in the future emails to all participants.
We look forward to welcoming you in Garmisch-Partenkirchen.
Program
Access the Conference Program here